Are you about to visit Singapore?
If you haven't visited this enchanting "city of future" by now, you should definitely do it!
This vivid metropolis of South East Asia is nothing like its neighbors in the area.
It became a global commerce, referred as an "easiest place to to the business" and ranks as the 3rd-largest financial and trading center of the world. Despite the fact that this country lacks natural resources, they managed to turn their power into human resource and now, leading the world of business.
Singapore became a highly attractive not only for the businessmen but also for visitors from all over the world.
The combination of interesting hyper-modern architecture, emerging culture of art scene with the historic Chinese and Indian influence along with the ton of attractions and things to do, Singapore will surely drop your jaw.
This gallery post shows you the Top 8 Things Which Make You Want To Visit Singapore Now:
1. Gardens By The Bay
[adrotate banner="3″]
This is the #1 Singaporean pride and the most visited place for visitors in Singapore. It is a huge complex which features more than 1.000.000 plants, art sculptures, children's attractions, and nevertheless, the
Super Tree Grove
.
There are no words which could cover this exceptional place!
2. ArtScience Museum
[adrotate banner="3″]
This world-renowned unique museum is located in the heart of a downtown of Singapore, in Marina Bay Sands. The architecture of the lotus flower shape was designed by the famous architect Moshe Safdie.
The museum has its own permanent exhibition, but mostly hosts curated exhibitions from all over the world. It combines art, science, design, media, architecture and technology for the one of a kind museum experience.
3. Helix Bridge
[adrotate banner="3″]
Another architectural gem which is in shape of a helix or spiral referring to the shape of the DNA. It is the pedestrian bridge linking the Marina Centre with Marina South in Marina Bay.
The special visual experience intensifies especially during the night when the bridge is illuminated.
4. Marina Bay
The downtown area of Singapore called the same as the bay itself. It has a 3.5 km waterfront promenade and features almost all best attractions of Singapore such as ArtScience Museum, Gardens By The Bay, Marina Bay Sands Hotel, restaurants, bars, shops and much much more.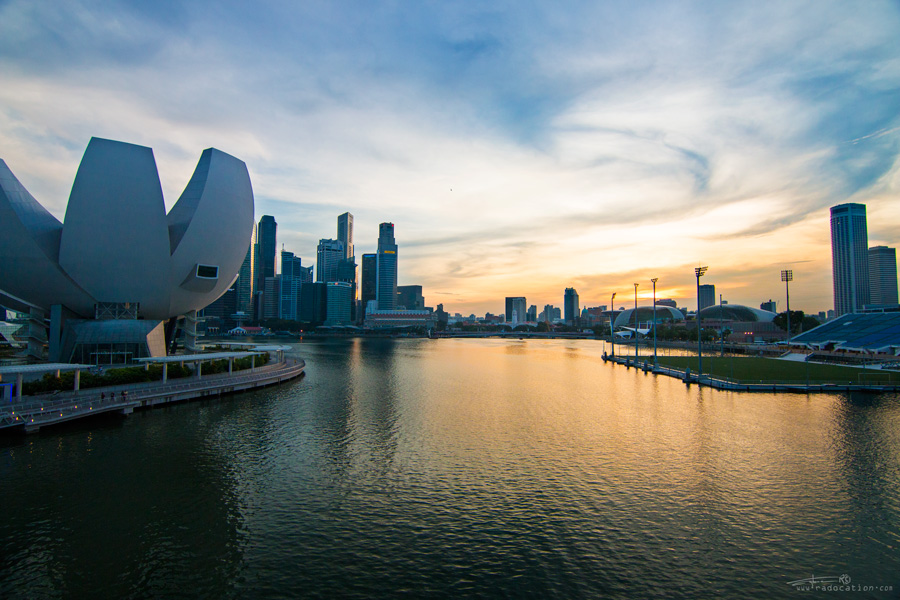 5. Merlion Park
[adrotate banner="3″]
The dominant of this park is a mythical statue Merlion – half fish, half lion – spouting water from its mouth. It is the national icon of Singapore which symbolizes two meanings. The fish-body symbolizes the beginnings of this city when it was just the fishing village called Temasek – Sea Town. The lions head symbolizes Singapore's original name, Singapura, or 'lion city' in Malay.
6. Orchard Road
This famous busy boulevard is a world-class shopping and entertainment venue with hundreds of high-end brands, restaurants, and entertaining events. It truly belongs to must-see places when visiting Singapore.
Orchard road is also the right place when you want to discover delicious Asian cuisine. There is plenty of high-quality restaurants which offer food from all over Asia. Restaurants make an important role in the life of Singaporeans because in their busy lifestyle they rarely cook at home. Usually, they dine in the restaurants every day after work, and this habit created an excellent cuisine culture.
7. Sentosa Island
[adrotate banner="3″]
Sentosa is the resort island which offers endless entertaining opportunities for the people of any age. It belongs to the popular holiday destination for the locals because it has 2 km long sand beach.
But what is even more interesting on this island are its attractions. It features Resort World Sentosa which includes 3 theme parks – Universal Studios, Adventure Cove Water Park, and S.A.E. Aquarium which is the world's largest oceanarium.
If you have kids, there is now way to miss this paradise for children.
Are you looking for another program for kids?
Try to check these popular family attractions which belong to absolute must sees when in Singapore with kids:
Jurong Bird Park
Night Safari
Singapore ZOO
8. Sri Mariamman Temple
[adrotate banner="3″]
It is the oldest Singapore's Hindu temple located in the downtown of a Chinatown district. It belongs to the National Monuments due to its architectural and historical significance.
We really like visiting Hindu temples during the ceremony because we always feel warmly welcomed by lovely locals. It belongs to one of our most beautiful inter-cultural experience. We even found new friends during one visit at Hindu temple in Johor Bahru, Malaysia.
Not far from this Hindu temple on the same street is located another cultural pearl Buddha Tooth Relic Temple & Museum. We highly recommend visiting this temple to see unique Buddha relics and discover more about this religion.
Besides these 8 absolute highlights of this charming and vibrant places, there are at least another dozen things to see in Singapore. Depending on your preferences and time-frame, learn about all the attractions there to make sure you won't miss anything valuable to you.
Have you been in Singapore? What were your favorite places? Did we miss anything from your favorite spot?
Gallery:
© Independent Couple
All pictures in this post were taken by Radoslav Cajkovic www.radocation.com and are subject to copyright.