Where to holiday in Florida?
It's a tricky question and we know how hard is to choose the best destination in Florida out of so many remarkable places! Florida is unique because it's the only state of the US accessible by car with the tropical climate and captivating beaches with waters ideal for swimming all year round.
That's why we have traveled across the entire state and come with the list of our 10 of the best beaches in Florida to help you with deciding:
10. Cocoa Beach
Cocoa Beach is the closest beach to the "entertainment capital" Orlando. It is said to be one of the most affordable places in all Florida, which makes it a great holiday for families.
Except for the nice beach with Atlantic ocean, Cocoa beach offers a variety of attractions for people of any age. From plenty of water attractions like eco tours on kayak or airboats to shopping, dining, and even jazz clubs. The most remarkable one, however, is the Kennedy Space Center from which you can watch a real rocket liftoff into space!
9. Panama City Beach
Panama City lies in north Florida between Tallahassee and Pensacola. This popular holiday mecca is very often named as one of the most beautiful beaches in Florida.
And there is no wonder about it because it features 27 miles of white sand beaches along the turquoise waters of the Gulf of Mexico. Panama City Beach has 2 State Parks, a lot of public beach access points and a lot of restaurant wich offer local seafood delicacies.
8. Hollywood Beach
Hollywood beach stretches between Miami Beach and Fort Lauderdale and is another popular holiday destination.
This beach is quite similar to the Miami Beaches and features great promenade called Hollywood Beach Broadwalk which is 2.5 miles long. The promenade is ideal for a bike riding, walking or jogging.
The promenade is of course lined with the restaurants of many choices, cafes, and bars so this place is always vibrant and live.
There's also a wide range of accommodation of any price, including holiday bungalows for families with kids almost right on the beach.
7. Cayo Costa State Park
Cayo Costa State Park is a little island located east of Cape Coral accessible only by private boat or ferry.
The fact that it is not accessible by car means it is remote and not many people get there at all. And that's a unique case in Florida.
This State Park offers an option to stay there overnight in primitive cabins or tents. So you can have this paradise almost just for yourself and enjoy wild, splendid beaches.
The beach itself is known for a "shelling" as many people who visited this place found big or small shells of any shape and colors.
Cayo Costa offers many nature trails across the pine forests, oak-palm hammocks, mangrove swamps and 9-mile of beaches. A perfect place for swimming, snorkeling and watching all kind of wildlife which lives here undisturbed by the humans.
6. Barefoot Beach Preserve Park
Located in Bonita Springs, for an entry fee of $8 per vehicle, you will be able to enjoy little wonderland away from the rush of the city.
Cute gopher tortoises will welcome you on your way to finding your parking spot. That's why you have to drive very slow to take care of them because they like to sunbathe and feed along the road. The remarkably unspoiled beach is perfect for all-day beach adventures. You can enjoy shelling, walking on the nature trails, kayaking or wildlife watching.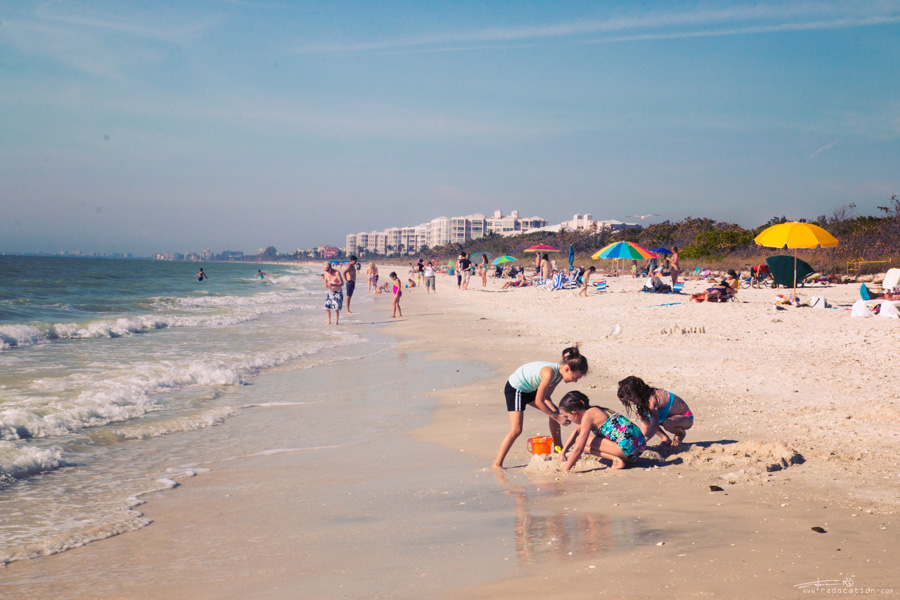 5. Vanderbilt Beach and Naples Municipal Beach & Pier
The turquoise waters, white sand like a fine sugar and great sunsets. Naples definitely has a lot to be proud of.
Except for the fact that the beaches are quite crowdy during the main season. But if you wish you can escape the crowds to the nearby Delnor-Wiggins Pass State Park.
The highlight of Naples beach is certainly the pier, which is great for romantic walk or fishing.
Most of the time the sea of the Gulf of Mexico is calm and great for swimming. Often we have found many starfishes hiding under the sand close to the shore.
Naples is a great place for retired people and for those who are looking for a calmer and retrieving gateway. The beaches are really exotic and beautiful, but the city itself has a bit snobbish character.
It's because Naples has the second highest proportion of millionaires per capita in the US (in 2012).
That's why Naples is very clean, and very well kept off. But at the same time it has something to do with the fact that it's full of white and wealthy people, so do not expect to see here much cultural diversity.
For young people or those seeking an adventure, there are much more fun and exciting places elsewhere in Florida.
Tip for the Naples nearby area: If you want to escape the crowds and enjoy the beach just for yourself, head to the many secluded islands like Keewaydin Island or Marco Island.
4. Clearwater Beach
This barrier island located east of the capital Tampa is a very popular holiday destination for people of any age. This exciting place is not only a great gateway but also a vibrant venue for young people, families with kids and retirees.
The long 2.5-mile long beach here offers great sand area, the sand is white and smooth, water is a bit colder but calmer and perfect for swimming almost all times.
Except this, there is plenty of activities to do here. Big playground for kids, a huge inflatable shark for the kids right on the beach, volleyball courts, souvenir shops, cafes and much more.
On top of that, there is a very nice pier which is worth for the walk especially during sunset when local handcraft markets start here every day.
Many people know Clearwater Beach especially from the movie Dolphin Tale which is based on the true story about rescued bottlenose dolphin called Winter.
And you can see the Winter in real in Clearwater Marine Aquarium. It's another perfect place for families with kids.
Just about an hour and half of the drive from Clearwater Beach lies another famous beach called Siesta Beach in Sarasota. This destination is regularly nominated as one of the best beaches in Florida.
3. Lovers Key State Park
This was one of our favorite Florida's beaches indeed.
Lovers Key got its name from the fact that for a long time the beach was only accessible by boat. So many couples used to sail there for their private time :).
Nowadays, however, it is accessible by road so don't expect to have a lot of privacy for  "lovers" matters. But considering how crowded are other beaches in nearby areas, this beach is still remote and you will find much more privacy here.
This pristine beach has a wild character given by dried trees erecting from the sand.  Except for great swimming conditions, it's a paradise for the local wildlife.
Water along this 2-mile long beach is home to a West Indian Manatees (friendly "sea cows"), Bottlenose Dolphins, roseate spoonbills and other kinds of wildlife.
There is an entry fee ($8 per vehicle) which worth to pay to have a great spot for the whole day. We highly recommend staying there for the sunset!
2. Bahia Honda State Park
One of the southernmost state parks of Florida Keys, Bahia Honda has a truly tropical character and presents a great spot for discovering of corals and surroundings.
The shallow turquoise clear sea with corals is perfect for snorkeling. However, less perfect for swimming as the beach is really shallow.
You can rent snorkeling gear, kayaks or paddleboards or even try snorkeling tours to the Looe Key National Marine Sanctuary.
Bahia Honda State Park offers an option of accommodation as well. There are cabins available for rent and also a campsite.
Imagine to camp with a tent in a real paradise! But you must prepare your holiday here very well as the campsite might be fully booked a year in advance.
1. Miami Beach
For us personally are the Miami Beaches the best, and most beautiful in Florida.
Miami Beach is divided on the South Beach and North Beach, and they are equally beautiful. Deciding where to stay is only on your preferences. South Beach is busier and accommodation is divided by the boardwalk from the beach, while the North Beach is calmer and offers accommodation right on the beach. They are connected by the famous Collins Avenue full of great restaurants, bars, and shops.
Particularly our favorite spot is Haulover Beach on the North Beach, which is referred as the top clothing optional beach in the US.
In favorable conditions is Miami Beach unbeatable. Water is turquoise clean, the waves are not too high for swimming, but water is still not too calm for other water sports.
Many hotels and motels of any price range are literally on the beach, especially on the North Beach. So when it comes to the ideal holiday in Florida, Miami Beach has it all.
Except for the swimming and sunbathing on the beach, there is also plenty of other activities to do in the area. Try out many free museums, yoga classes, Bootcamp workouts, or Biscayne National Park which is perfect for spotting the manatees and dolphins.
Or simply you can take a nice walk or a bike ride along the beach trails.
Miami Beach is also famous for its art deco hotels and rich Cuban and Latin American influence.
At night, Miami Beach is another famous party place, especially South Miami, so don't expect you will ever feel bored there.
This was a carefully made list of our most favorite beaches all around Florida. There is of course much more places in the sunshine state which certainly worth to visit for other reasons. We will mention them in our next posts.
What is your favorite beach in Florida and why?
---
© Independent Couple
All pictures in this post were taken by Radoslav Cajkovic www.radocation.com and are subject to copyright.