Independent Couple has been exclusively shared in the article of New Zealand's most read news Stuff.co.nz and you can read it here!
After releasing of this article we have been very happy and honored and didn't expect that the journalist will be back in touch to ask us about their next intend to write about most romantic places of New Zealand regarding oncoming Valentine's Day.
We have been asked to express our opinion on this theme, so I decided to write about most romantic places in New Zealand and the things you can do with your significant other during this special day.
Where else should you spend your Valentine's Day better than in New Zealand – which is the definition of the word romantic itself?
We have prepared for you a set of romantic programs in 3 different places across New Zealand, which we think are the best for this kind of occasion!
3 different places divided according to your preference and budget abilities.
Sensational Romance in Queenstown
Queenstown is world renowned town as a mecca of adventures of any kind, you name it.
A small town in the South Island is laying among spectacular Remarkable mountains, which name is an appropriate definition of their appearance.
This town is surrounded by the calm waters of lake Wakatipu.
While many travelers head to the Queenstown for unforgettable adventures, we think this city can be an ideal place for a wonderful romantic time with your soul mate as well.
How to Plan Your Most Romantic Time in Queenstown
Choose a hotel which offers spectacular views on the lake Wakatipu and Remarkables.
Practically every hotel on Frankton road as well as those ones in the center offers rooms with views, just make sure you will get the front one, not the one with the backyard view.
We guarantee you that just staying in the hotel and staring out of a window will be a pleasant experience.
After breakfast, our recommendation is to take an impressive cruise on a famous 100 years old Vintage Steamship. Except for unforgettable views, what could possibly be more romantic than to cruise with your loved one and feel like from the Titanic movie?

Image created by ©Radoslav Cajkovic www.radocation.com

After the cruise, you can roam through the busy streets and look for your ideal spot for lunch. Or just grab some sandwich and go to enjoy it on a Queenstown bay, to absorb the multicultural atmosphere of a busy tourist mecca.
The romantic walk along lake Wakatipu is a pleasant option how to calm your minds from busy center, connect with nature and talk to each other.
Alternatively, if you are not limited by your budget, you can visit Kiwi Birdlife Park, the sanctuary where you can meet and feed real Kiwis and other cute birds and walk in the "rainforest".

Picnic afternoon at lake Wakatipu

For all lovebirds and those ones who have a sweet tooth, we strongly recommend afternoon cup of the best hot chocolate ever in the lakefront chocolaterie Patagonia.
Prepare to be tempted with handcrafted ice cream, cakes, pankaces and tarts. All this with the view on the lake and Remarkables. If I could, I would move there and never go away!
Absolute sherry on top is the ride on Gondola up on the mountain where you will have marvelous view on the whole town with the sunset. You can come by the light and enjoy sunset as you have never ever seen before. Pink-orange top of Remarkables' wildly shaped mountains will take your breath.
After sunset you can enjoy stargazing and have a romantic dinner right on the top with night town lights radiating below.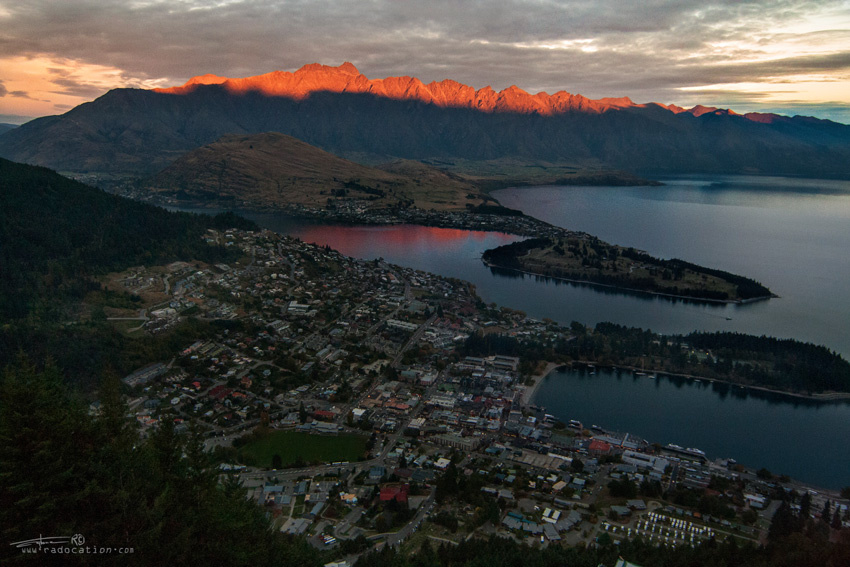 Mystical Catlins – Oasis of Peace
Do you want truly romantic escape from all the rush of civilization?
You can enjoy your most romantic moments together peacefully right in the Catlins – secluded area of southernmost South Island, where you can discover many beautiful places on a quite low budget.
And this is how:
We have been staying in The Whistling Frog Resort which offers various choices of accommodation from chalets, to motels and also camping sites, so the prices varies from $16 – $195.
We stayed at our own private cabin, and it was priceless experience. It was cosy, romantic and comfortable with great service and amenities.
We felt like real Indiana Jones among the rainforest, and yet felt safe in our small cabin and enjoyed it at most.
From this place you can visit and should not missed these highlights:
McLean Falls – just 5 minutes of walk from resort – nice and comfortable walk through rainforest with the picturesque falls at the end.

A HDR image created by ©Radoslav Cajkovic www.radocation.com

Slope Point – 4o minutes of drive to the relentless place which is the southernmost point of South Island with the view on tumultuous ocean and never ending horizon.
Anxious feeling will change for a pleasant one, when you take your partner's hand.
Suddenly you'll be able to enjoy the view on cliffs.
Nugget Point – romantic walk towards the lighthouse will give you rare feeling like from a novel book. All scenery is impressive at this calm and yet very remorseless place.

Nugget Point – ©Radoslav Cajkovic www.independentcouple.com

Waipapa Point – this rocky shore has its own lighthouse as well, however not so good-looking. But what attracts tourists here is not a lighthouse, but the special opportunity to see huge and wild sea lions. Resting on the rocks they look quite innocent. But can be harmful so keeping some distance is advised.
Curio and Porpoise Bays – are home of a world's rarest and smallest dolphin species –Hector Dolphins. Porpoise bay is also a great place for swimming and surfing, and during summer dolphins are coming very close to the shore. They are shy and easily frightened so be gentle.
All along the coast you can spot precious endangered yellow-eyed and little blue penguins but the best chance to see yellow-eyed ones is on Nugget point and Curio Bay.
Yellow eyed penguins pair for a life, so it represent a very romantic view on the merging of human and nature particularly on a Valentine's Day.
Cathedral Cove – Hidden Piece of Heaven
Cathedral Cove is another secluded hidden gem of New Zealand coast. And in our opinion, it is one of the most beautiful and romantic places in NZ whatsoever! Beauty of Coromandel Peninsula can even beat any Pacific Island's or Thailand beach anytime.
Purity, wilderness and uniqueness of this place and its surroundings embrace the soul.
Lime rocks erected from sea close to the shores, steeping by waves, look like they have been formed by the artist with their distinctive shapes.
Bays lined with the white sand are perfect for sunbathing, swimming and kayaking.
How to get there:
Cathedral Cove is a natural reserve belonging to a Coromandel Peninsula full of exotic rainforest, wildlife and succulent bays. This place is the right one if you want to encounter endangered Kiwi in its natural environment, however it's a very rare occasion.
Cathedral Cove is located only about 177km east of Auckland, what is approximately 2,5 hours of drive. This location makes it affordable for even one-day trip right to the paradise. Basically said, if you are from Auckland, you can have a wonderful Valentine's Day at Cathedral Cove at just a cost of a fuel.
Take your towels, swimsuit, picnic set and make romantic day at one of the top places of NZ coast.
And this place is real proof that the best things in life are always for free!
For a multi-day trip here are some best places you should definitely visit (except Cathedral Cove) during roaming across peninsula:
Hot Water Beach – Very popular spot on a Mercury Bay. In addition to a beautiful beach, during low tide you can simply dig a hole to the sand and lay in the hot water like in hot tube. Water may be very hot and during summer it's usually overcrowded, so according to locals the best time for visit is before sunrise during peak season, or during winter or autumn.
New Chum – was rated as one of the worlds top 10 beaches, so there is no doubt it must be something!
Hauraki Rail Trail – for cycle lovers it is one of the easiest cycle trails across farmlands, scenic waterways and gorges for 82km.
After watching video below, maybe even if you are not fun of a cycling you would like to try there:
More information about Cathedral Cove and Coromandel Peninsula: www.thecoromandel.com
There are hundreds of places in New Zealand so stunning and romantic, that in fact it's hurting me to tell that only these 3 ones worth to visit right on a special romantic occasion.
However 3 places mention above are bounded with our own top romantic experiences we wanted to share with others.
Other places which deserve to be listed as a romantic idea for a Valentine's Day include:
Stewart Island: is possibly the most peaceful piece of the world with only few friendly citizens. It is the only place, where you can meet Kiwis in their natural environment very easily. You can watch aurora australis, and enjoy the simplicity and calmness faraway from the rush of civilization. Here everything has its own pace.
Northland and Cape Reinga: Most popular lighthouse at Cape Reinga offers spectacular sightseeing which is usually never missed by any traveler. Northland's golden beaches in a subtropic climate are ideal for swimming and surfing time, and for funny "desert" experience we recommend visit 90 Mile Beach.

Cape Reinga ©Radoslav Cajkovic www.radocation.com

Nelson and Nelson Lakes: Pleasant city on the North of South Island is popular holiday destination for locals for its nice beaches, and close distance to absolute highlights like Abel Tasman National Park, Golden Bay and Nelson Lakes which are unfortunately often overlooked by travelers.

Nelson Lakes – Lake Rotoiti

Mt. Manganui and Bay of Plenty –  for their exotic beaches and good weather.
Cape Palliser – A lonely place among the cliffs with the majestic lighthouse, we have devoted to Cape Palliser its own post, just click on the link.
Wellington – Capital is certainly a good choice when it comes to a quality time with your loved one. City literary bursts with culture and events – from Botanic garden, Zealandia, Zoo, magnificent Te Pappa Museum to galleries and restaurants.
Wanaka – Popular ski and summer resort with lake, especially attractive in autumn, when is colored with golden-orange.
Milford Sound – It doesn't need any explanation why to visit Milford Sound. World-renowned Fiordland National Park is inevitably the absolute highlight which New Zealand offers!

Lake Marian – Fiordland National Park – ©Radoslav Cajkovic www.radocation.com

Hanmer Springs – is one of a must do's of local couples. Enjoy hot springs and mineral pools outside with the view on the picturesque mountains. For ultimate romantic time book your own private pool inside just for two of you.
Dunedin and Otago Peninsula – This area is full of stunning beaches, and furthermore, second largest city of South Island is well known for its heritage of Edwardian architecture like Dunedin Railway Station.

Nevertheless, mysterious West Coast with restless ocean, friendly and curious companions Weka and interesting Nikau palms.
Did we forget something?
It is surely the matter of personal preference and taste, however, we kindly welcome your tips and opinions regarding this topic.
© Independent Couple
All pictures are taken by my husband Radoslav Cajkovic, unless stated otherwise, and are subject to copyright.
Gallery