Have you got lust for true exotic golden-sand beaches, bays with azure calm sea perfect for kayaking and swimming?
And all this beauty is surrounded by pure and immaculate bush full of Silver Ferns, creeks, curious birds are singing as you walk down the comfy track with spectacular views and never-ending chance to get the backpack down and jump to the water. Sweet as!
If all mentioned above is exactly what you're looking for, then you should discover Abel Tasman National Park.
And if you already know this place, you probably plan your trip there, because you know it can't be missed out.
If you are going to cross Abel Tasman Coastal Track, you have to make some prepares as this track may take from 3-5 days.
So what is the best way how to prepare on Abel Tasman Coastal Track?
Let's learn from our experience, mistakes and success because we made it.
Basic Info:
Abel Tasman Coast Track is one of nine Great Walks of New Zealand.
Located in Abel Tasman National Park on the north of South Island, this area is a popular holiday destination for locals and travelers for its famous golden beaches. It is great place for camping, swimming, and kayaking with the mild climate, pure nature and endless hot summer.
Track overview: 
Lenght: 60km
Duration: 3-5 days
Level: Intermediate Great Walk / Easier tramping track – well formed easy to intermediate track suitable for people with limited backcountry (remote area) experience.
In other words, this tramping track is easy-peasy wonderful outdoor activity for families with kids as well as for people of older age in shape.
Best time to visit: In New Zealand summer – December to February.
Ultimate Holiday Spot For Multiday Or Just One Day Trip
Abel Tasman National Park offers vast range of outdoor activities according to your preference.
You can hire kayaks in nearby Motueka village, as the calm and shallow waters along bays are great even for less experienced kayakers.
If you'll be lucky enough, friendly and curious seals can come to greet you and some of the most curious ones can jump on your kayak.
Not a camping person? No worries, you can book a lodge and enjoy lazy summer days directly on the beautiful beach.
Helpful and adventurous experience offers water taxi, which can help you to manage your trip to perfectly suits your needs.
Thanks to water taxi you can shorten your walking track and/or choose where you want to drop off and pick up again.
Undeniably the number 1 experience is to cross Abel Tasman Coast Track on a multi-day trip to explore all stunning bays, enjoying pleasant walk and ultimate camping experience on the beach.
Morning awakenings in a tent with the sound of a gentle waves, watching wildlife on the beach while having breakfast.
Paradise on Earth!


How To Prepare For Abel Tasman Coast Track For The Best Experience Ever
As I mentioned before, this coastal track is very variable and you can suit it to your needs and abilities.
The DOC's proverb is saying "Plan and prepare" – and this applies on this track as well.
Important things to pack with you:
You should be equipped appropriately on every situation that can happen and think ahead. Count always with emergency supplies of water and food, just in case.
cooking utensils

– gas cooker and gas, pots, plates, cutlery, lighter
supplies of

drinking water

– there is not many spots for replenish it

emergency kit

raincoat

, waterproof clothing
comfortable shoes ideally for long distance walking/tramping
tent, sleepbags, mat (if you aren't staying in huts)

food supplies

– high nutritional and easy to prepare like dried fruit and nuts, canned beans, protein and energy bars, crackers, biscuits, dried ready meals, dark chocolate
swimsuit, towel,

sunscreen 30+

, sunglasses, hat or something to cover head
clothing for the hot and cold weather (be prepared that when starts raining, temperatures may rapidly decrease at night on as low as 6˚C)
plastic bag for rubbish –

take your rubbish always with you!

Sandfly repellent – once you sit, they don't stop hassle, so if you don't take repellent, you'll be literally one nervous itchy red ball on the end of trip

Campsites
There are plenty of campsites, but don't forget to book them prior the trip. These campsites are not for free, and are equipped only with portable loo, however, they really do offer ultimate camping experience.
Cost of campsites:  $14 adults (per person per night), children (0-7yrs ) Free
Booking can be made online at: Abel Tasman Coast Track Booking
Or contact DOC by phone. Alternatively in any iSITE can help you with booking as well.
Best camping spots in most popular bays are often fully booked during the peak season, so try to plan your trip well ahead.
We have learnt, that better you plan and prepare your trip ahead, more satisfying and adventurous it will be. Because when all is done right, you don't have to solve any issues, and enjoy fully your time there.
⇒More information  how to prepare on this great walk
⇒Abel Tasman Coast Track detailed map and information

Unlike other Great Walks like Milford Track for instance, you can cross this track either directions.
Most of visitors choose to pass it from Marahau up to Wainui direction.
We took a water taxi, which dropped us right on the Anchorage Bay and from there continued to Bark Bay.
Anchorage Bay to Bark Bay – can be crossed two ways according to tide.
High tide track distance is 11.4 km long (approximately 3-4 hours of walk), but on this track you can make a side trip to Cleopatra's Pools.
This rock pool with clear cool water is a nice swimming hole with a natural waterslide next to it.
Low tide track through the Torrent Bay estuary can be crossed within 2 hours so it can save you some time and energy.
Abel Tasman Tide Timetable
Our Top Advice Regarding Right Planning Of Trip
Rather stretch trip to 4-5 days, than to rush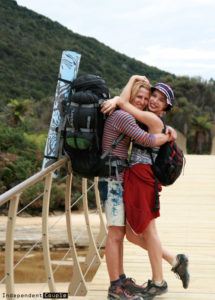 to catch campsite before sunset. We planned our trip to 3 days tour, however 2nd day distances were too big and we pointlessly stressed to get to camp before sun went down.
Check The Weather
Our destination was spectacular and not so busy Anapai Bay – another paradise on Earth, however ,we couldn't enjoy it the most, because heavy rain caught us the next day.
Packing the tent in a rain and then rushing all wet to catch our taxi to take us back home wasn't very pleasant experience, but it is definitely kind of strengthen one.
Book In Advance
No matter if it's hut or campsite, if you don't plan ahead, better campsites can be fully booked and you will have to choose less popular and beautiful places.
Same applies to best camp spots within campsite. Sooner you come, better spot you take, longer you can enjoy swimming and enjoying beach, instead of rushing to set up tent while is still daylight.
Pack The Right Things – Stay Light
As it is common with packing your suitcase, it may be challenging to pack for a Great Walk. You need this and that, and suddenly, your backpack weights 20kg. Take what you need and select what you don't.
Important thing is really not to make your backpack heavy, as it can take you huge amount of energy and also hurts your back.
Your whole body will be exhausted and hurt after such a heavy multi-day load.
Anyhow you plan to spend a holiday in Abel Tasman National Park, we are sure you will want to come back again.
Yes, there are beautiful white and golden sand beaches anywhere in the world, but not like these ones.
Combination of exotic bush, wildlife, pureness of nature, mild climate, services and well kept routes along with breath-taking azure waters in bays are created to make everyone feels like Robinson at his own island of paradise.
We'll be there as soon as possible.
Love you New Zealand! <3
Have you been in Abel Tasman National Park? Or do you plan to go there?
What are your experience and impressions?
Let us know, we welcome your opinions.
© Independent Couple
All pictures taken by my husband Radoslav Cajkovic unless stated otherwise and are subject to copyright.

Gallery: