New Zealand is the place like no other.
Not just a few people have said that from many places they visited, New Zealand was by far the most beautiful and interesting country ever.
When it comes to nature and sceneries, New Zealand is unbeatable, very special place. The fact that it has been developing for centuries isolated from all over the world, gave a chance for survival to many animal and plant species which would not survive anywhere else.
Very diverse, fast-changing weather influenced by the Pacific Ocean created a land where are various types of nature which are comparable to whole continents with its richness.
And so, you can hike the snowy mountains, swim on the exotic beach, walk through the active volcanic area, play in the vast sand dunes or get lost in the tropical bush – all of this just few hours of drive from each other.
With unique and breathtaking sceneries, wild animal encounter and discovering precious Maori culture, there won't be anything better like your holiday in New Zealand.
And these are the top 15 things you need to see in New Zealand when you finally decide to visit:
1. Auckland
Auckland city is the biggest city in New Zealand. And not just that, furthermore, this "City of Sails" is the largest Polynesian city in the world. This amazing coastal metropolis will be your perfect recharge for further travels. With great restaurants, festivals, shopping venues, cultural program, and endless activities to do, Auckland will boost you with plenty of unforgettable experience.
Hot tips for Auckland:
Auckland Sky Tower
Polynesian Culture Centre
Auckland's Volcanoes
Sea Life Aquarium
2. Ninety Mile Beach & Cape Reinga
Once upon a time, there was the end of the world. And who would guess that despite many people fear of it, it is one of the most enchanting places?
Cape Reinga lies in the northern point of North Island, with the spectacular views of the limitless horizon of ocean and nice lighthouse.
Just a few kilometers on the southwest is situated Ninety Mile Beach – a vast sand dunes area with a beach.
If you have never surfed on the sand, now is the perfect time to try it.
Have fun!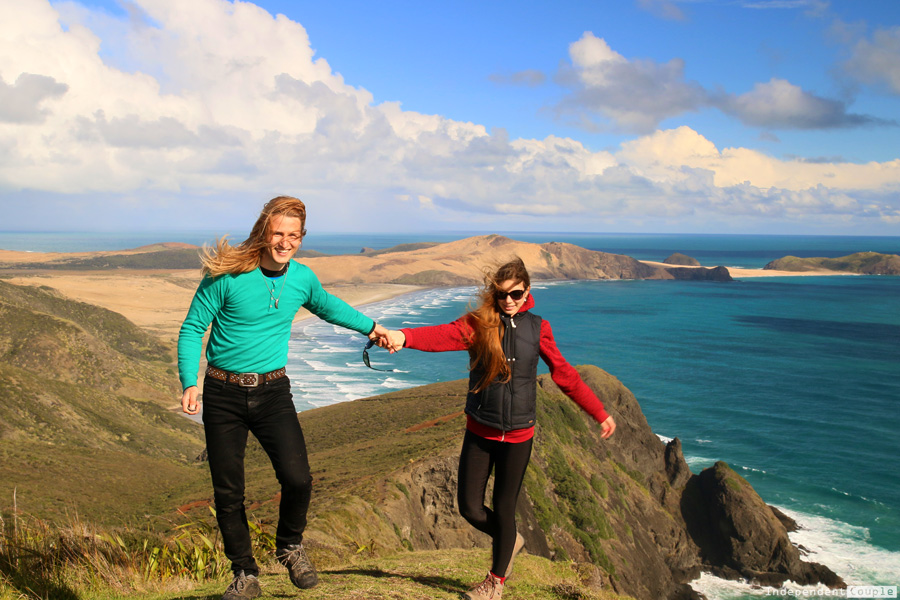 3. Bay Of Islands
This subtropical paradise is the best place for anyone who loves water and water sports. The best way how to discover these 144 islands is on the boat, yacht or kayak. Furthermore, Bay Of Island is a world-renowned place for scuba diving for its coral reefs and colorful variety of fishes and sea life, including friendly dolphins and seals.
4. The Coromandel With Famous Cathedral Cove
We have been to this place before we even know it is so famous. And then we saw the movie The Narnia, and a screensaver of a Windows 10 and it was like "wow, look it's a Cathedral Cove…".
The Coromandel is a fabulous subtropical rainforest area with pristine golden beaches perfect for chilling, sunbathing and all kinds of water fun.
Full of adventurous tracks and trails, there is plenty of things to do besides admiring the lush and beauty of Cathedral Cove.
Don't miss the unique Hot Water Beach! Where you dig a hole into sand and bath in the natural hot spring few meters from the sea. Amazing!
5. Tongariro National Park
There is no excuse to miss this destination when traveling to New Zealand. This vast, active volcanic national park is home to a Mt. Ruapehu – the famous Mt. Doom in The Lord Of The Rings movies.
This absolutely unique area offers spectacular tracks in summer and perfect ski fields in winter.
What not to miss in Tongariro National Park: Tongariro Alpine Crossing – popular one-day tramping track with astonishing views of Emerald Lakes, volcanic fields, and Mt. Ngauruhoe
6. Rotorua
[adrotate banner="3″]
Rotorua is famous for its best Maori culture experience and countless natural hot springs, boiling mud pools, geysers, native exotic forests with great tracks, lakes, and warm welcoming people. Definitely, a must see on your list of places to visit in NZ.
7. Wellington
Wellywood was our favorite city to visit for us. This capital is very rich in culture, arts, good vibes and everything about it. The city center is absolutely stunning with nice buildings, great places to dine, shop and moreover, so many galleries, museums etc.
There is a stunning city beach called Oriental Beach which is especially interesting to see on a Christmas day.
Surroundings of Wellington are also wonderful, with the views of the Wellington Harbour and Fitzroy Bay.
Hot tips for Wellington:
Te Papa Museum – Amazing museum of natural history, history of Maori and New Zealand culture. The interactive place for whole families (especially great for kids) with a lot of interesting and funny experience. Free of charge!
Wellington Cable Car – This historic NZ´s only funicular railway will drive you up to the great views of the whole city and to one of the best city´s attractions like Zealandia and Botanic Gardens.
Zealandia – World's first fully-fenced urban ecosanctuary which has the vision to restore the ecosystem to a pre-human state. Bursting with bird life of native New Zealand birds from which some of them are endemic, and other extraordinary forests and plants.
8. Abel Tasman National Park
Abel Tasman National Park belongs to a popular holiday destination for locals as well as tourists from all over the world. The Abel Tasman Coastal Track is especially very popular track because it is accessible and not very demanding tracks for people of any age. Besides that, nobody could resist the track along one of the most beautiful beaches in New Zealand, and tropical bushes with the ultimate opportunity to camp directly on one of the many beaches there. Kayaking and water taxi is also a popular transferring option in this area.
Absolutely amazing escape from the rush to a real paradise!
Do you plan a trip to Abel Tasman Coastal Track? Read our Ultimate Guide To Abel Tasman Coast Track.
9. Arthur's Pass
This remote area is a good over-stop when traveling between East Coast (Christchurch) and West Coast. Except for waterfalls and great camping spots, you will love encountering of unique mountains parrots called Kea – friendly, and a bit annoying birds which are too smart to leave your belongings. They will go after your backpack, comfortably unzip it and take anything they want, especially food, so be aware.
We highly recommend to hike the Avalanche Peak there, as it offers the astonishing views of the mountains, but it is a quite demanding track for experienced trampers only.
10. Lake Tekapo, Lake Pukaki, and Mount Cook National Park
On the way to the highest mountain of New Zealand, you will pass by the unbelievably blue glacial lakes Tekapo and Pukaki. The color of these lakes especially the Pukaki one will blow your mind! On the shore of the bright blue lake, you will enjoy spectacular views of the snowy Mt. Cook and the Southern Alps.
Mount Cook village has some easily accessible walking tracks, and we recommend to try Hooker Valley Track, which ends at the glacier lake with the flowing icebergs in it right in front of almighty Mt. Cook.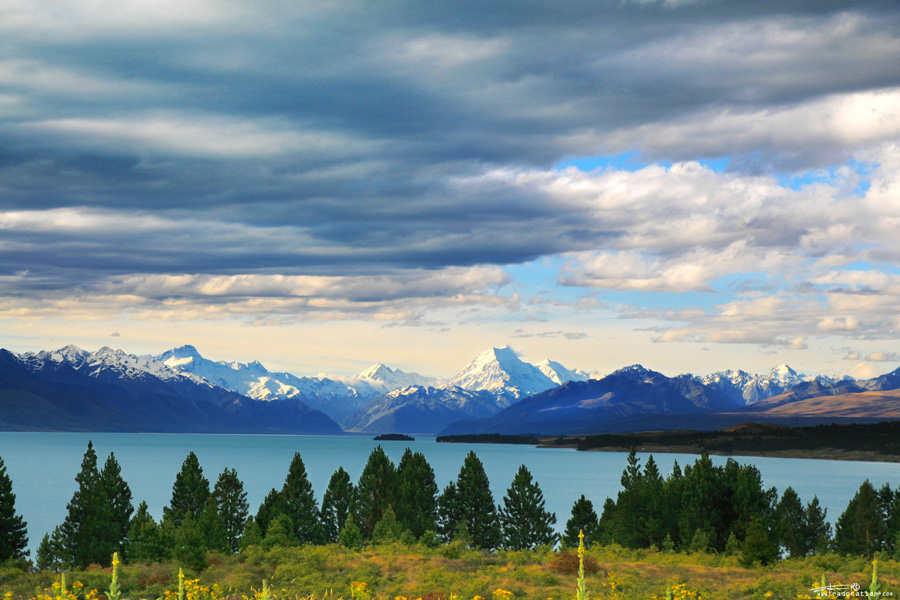 11. Dunedin
Dunedin belongs to one of the oldest places in New Zealand and is valued as a national heritage. However, its distinctive Victorian and eclectic architecture are not all you can admire there. Otago Peninsula offers great golden beaches perfect for swimming and surfing with the rare spots to watch seals, sea lions and other water birds like Royal Albatros.
Furthermore, you can visit the only New Zealand castle called Larnach Castle with exceptional gardens.
12. Queenstown
The capital of adventure where it all began. This city has a hype all year round. During winter excellent skiing choice, while during summer every attraction you could only dream of. Bunjee, zip tracks, boat cruises, jet boat.. and the small city is full of a touristic rush with great restaurants, cafes, bars and the best waterfront chocolate bar ever!
Queenstown is also an important base camp for anyone who is going for hiking and discovering of a nearby Fiordland National Park and Mount Aspiring National Park.
Hot tips for Queenstown:
Gondola – A drive in the gondola up to the top of a hill on the sunset to see unforgettable shining golden peaks of Remarkable mountains and the view of the entire city with the lake!
A Walk Along The Lake – Remember the saying that "all best things in life are for free"? Well, when it comes to Queenstown, you will say it all the time. A nice walk along the lake and through the city will be a very enriching experience.
Luge – Whether you are a kid or a grown kid, you should not miss this funny attraction where you ride on a cart down the hill on the track of your choice with spectacular views.
Patagonia Chocolates – Ok, this is my personal obsession, but if you like all kinds of chocolate including ice cream as I DO, you will be pleased in there. Seriously, one of my best memories from Queenstown was sitting in a warm cafe, eating best pancakes of my life with ice cream, and watching crowds of people passing by in front of the harbor through the window.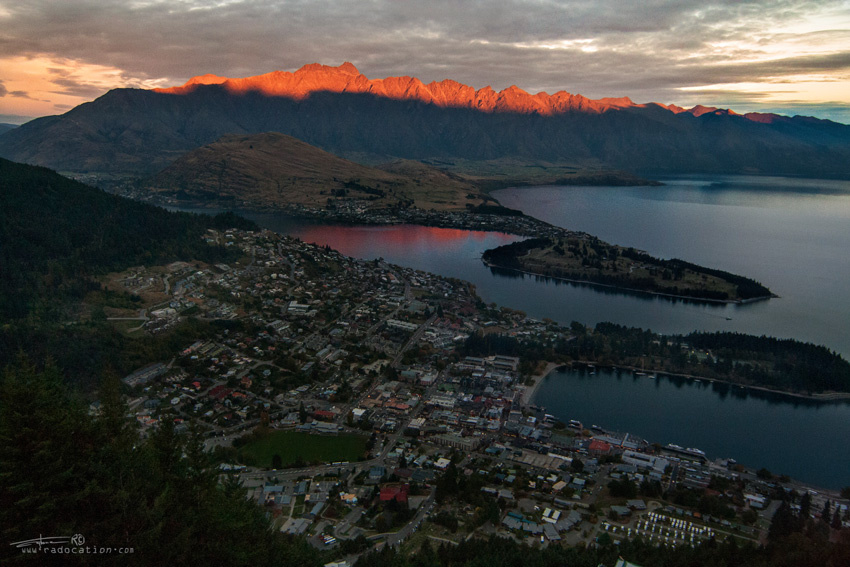 13. West Coast (South Island)
West Coast of South Island is a pretty magical place. Despite its roughness and remoteness, it is a very mysterious place.  The coast has unusual natural beauty and friendly wekas are approaching you, curiously seeking a food. Also, you will enjoy Nikau palms everywhere, which are endemic to New Zealand.
Hot tips for West Coast:
Paparoa National Park – makes a nice few hour stop to very unusual natural phenomena and wild nature.
Lake Matheson – famous for its perfect stillness which creates a spectacular mirror effect, reflecting stunning mountain surroundings.
Fox Glacier and Franc Jozef Glacier – located not far from each other in the Westland National Park. As one of the most accessible glaciers in the world, you can enjoy nice walks and see these glaciers from a very close distance.
14. Fiordland National Park
Fiordland National Park belongs to one of the most pristine places.
This unique park full of forests, mountains and fjords is home to plenty of endemic and precious animals and plant which evolved thanks to the remoteness of this place.
With plenty of tracks, camping spots, hidden gems, and 3 Great Walks, you can discover Fiordland forever.
Camping spots managed by DOC are a great way how to become a part of this special nature and enjoy it at its best.
Hot tips for Fiordland National Park
Milford Track – This "finest walk in the world" will lead you 54 km through exotic forests flourishing with silver ferns, endemic wildlife, countless waterfalls and breath-taking views.
If you want to cross the Milford Track, you have to book huts where you will sleep overnight. Prepare your trip in advance at least half of year, as it is so popular, it tends to be fully booked during the season.
Routeburn, Kepler Track – According to your preferences and abilities, you can choose whichever track you desire. Great sights, fresh air, unforgettable sceneries, and wildlife encounter guaranteed!
15. Stewart Island
This island located south of the South Island near Invercargill is a little, untouched paradise and a great escape for adventure seekers. It is the best place where you can watch real kiwis in their natural habitat. Furthermore, it is one of the few breeding spots of endangered yellow-eyed penguins. Also, you can meet there weka, kākā and albatross birds and many others.
You can watch the Aurora Borealis, walk many tracks and admire the calm and friendly atmosphere of this very remote place with only 380 people living there.
So these are the 15 things which you definitely need to see when you visit New Zealand according to us. We have been traveling through New Zealand for 3 years and most of these things we have experienced, so we really know what we are talkin´ about.
The best thing you can do when visiting NZ is to buy or rent a car and just drive!
Did we miss anything from your favorite place in NZ?
© Independent Couple
All pictures in this post were taken by Radoslav Cajkovic www.radocation.com and are subject to copyright.